Mondo Colorado presents...
EVA LOVI - ABSTRACT PAINTINGS
Welcome to the gallery of Eva Lovi's images. Current exhibit shows her new abstract images from 2001. All are made by oil on canvas, approximately 80x100 cm.
Here's what she says about the work: "I paint these pictures to make me happy seeking colors in my life. I want them to make people feel good - I foresee them decorating young people's living rooms. I hope..."
If youŽd like to see EvaŽs previous exhibits and her bio, visit ourArchive.
Click on the image or [enter] below to start your tour. Then you can use the image number buttons to proceed.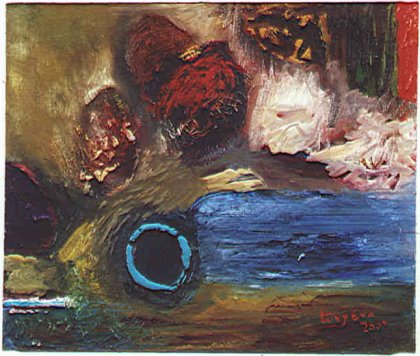 [enter]
All images are copyrighted and may not be used without written permission from the artist.
---

Images ©2001 Eva Lovi
Pages ©2002 Jiri Matejicek


[Future Art Group][Mondo Colorado Gallery]
---

First posted 6/11/99, last updated 9/15/09.