Mondo Colorado presents...
EVA LOVI - PAINTINGS
Welcome to the gallery of Eva Lovi's images.
Eva was born in Transylvania, from a Hungarian ethnic family. Since the 80s she lives in Israel, practicing medicine. Today she is working together with Itamar Siani, a Yemenite origin artist, on abstract painting with plenty of dynamics. They had many exhibitions in Israel, Europe and the States. Eva's first exhibition was in Yaffa (Tel Aviv) in last September. Their art group was participating in the Venice Biennale and the Rome Millenium events in summer 1999.

Current exhibit shows new images from the "Fluxus" series and "Transylvanian Landscapes", all done with oil on carton in Autumn 1999. If youŽd like to see EvaŽs previous exhibit, visit theArchive.
Click on the image or [enter] below to start your tour. Then you can use the image number buttons to proceed.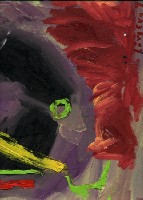 [enter]
All images are copyrighted and may not be used without written permission from the artist.
---

Images ©1999 Eva Lovi
Pages ©1999 Jiri Matejicek


[Future Art Group][Mondo Colorado Gallery]
---

First posted 6/11/1999, last updated 9/15/2009.